(Green Light®: what to do, how to do it. Apply, adapt these 100+ ideas, terms, suggestions – Greenly.)
Are You Making the Patient Sick?
(Take a dose of Green Light Medicine.)
by Marilyn Schoeman
Is the patient better off or worse off because of your visit? Are they eagerly anticipating your return or helplessly awaiting your departure? Do you sooth their spirit or set off a surge of high blood pressure alerts?  My mother's wisdom comes to mind: "Everyone brings joy here, some by coming, some by going."
Years ago, my father was suddenly diagnosed with a terminal condition. When I visited him at the Mayo Clinic, I wore my Groucho glasses. Their big bushy eyebrows, big nose and mustache instantly triggered a great grin on my dad's face – and returned the twinkle to his eyes.
When hospital staff came in and saw me with the glasses they always smiled and joked about them. Dad's response was so strong I have since worn many a pair of funny glasses on hospital visits. I leave them behind for a diversion, for smiles – and a reminder to focus on life and living.
When a dear petite elderly friend was hospitalized, I came to visit her wearing the Groucho glasses. I squatted down to her eye level in the wheel chair to give her the full effect. She laughed and giggled like a child. Then I put the glasses on her face. She just beamed! Nurses told me she wore them most of her stay. She'd tootle down the hallways, leaving happy smiles in her wake.
===============================================================================
Green Light is a new universal language – and a learnable skill. It's a conscious choice – a conscious intention to think, speak and ACT to make good things happen.
How do you think, speak and act in situations involving health issues?
Green Light® style – positive, optimistic, heart-lifting; focused on objectives and good news, on healing, wellness, humor, on being helpful, reassuring, supportive.
Red Light style – negative, pessimistic, depressing; focused on obstacles and difficulties – on sickness, injury, debt, arguments, fear, aging, death.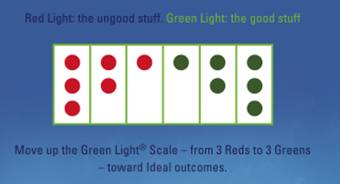 Where would you rank as a visitor on the Green Light Scale™, from worst to Ideal, 3 Reds to 3 Greens?
By using the traffic signal metaphor, you can identify WHERE YOU ARE and WHERE YOU WANT TO BE. Green Light helps you GET THERE. Use the Green Light Scale™ of three Red Lights to three Green ones to go from the worst case toward the Ideal Scenario. With this new awareness, you can choose the Green actions that move you forward. Green Light is the new protocol for the ultimate win.
                                      The Green Light Goal: Create the greatest good, in the best way,
                                                               for the most people, for the longest time.
What color is your style?
Red Light: You look terrible! What happened to you?!
Green Light: I'm so glad to see you! It's great you can have visitors.
Red Light: I just read about a terrible condo fire! People jumped to their death!
Green Light: I just read a neat blurb in the paper. Someone thanked a person for finding their wallet and returning it intact.
Red Light: Look at all those pills you have to take! Wow! How many tubes did they stick in you, anyway?!
Green Light: I'm glad to know you're healing. I happily anticipate taking walks with you again.
Red Light: I told you to be careful on that ladder! You didn't listen. Now you're going to be in traction for weeks. AND now I have to take care of YOU, besides all my stuff! Sheesh! I was overloaded before this.
Green Light: I wonder how you'll look back on this. Maybe it will feel like a gift of quiet renewal time.
===============================================================================
Sample Green Light questions: How can I help? What errand may I run for you? What might I bring you to read? When would you like me to stop back?
Typical Red Light statement: "Let me know if there is something I can do."  The words may sound helpful yet they are hollow, lacking the intention to take action.
Green Light visitors offer words of encouragement, uplifting images, things to look forward to and things to be grateful for. They may wear a day-brightening smile, don a funny hat or bring an amusing book. They brighten the space around them.
Red Light behaviors include using discouraging, deflating language: complaints, bad news, family struggles, etc. The focus is on upsetting, stressful and fearful topics.
It's bright Green to bring something to a patient that warms their heart or tickles their funny bone. It diverts attention from what's painful. The focus shifts to something upbeat and interesting.
===============================================================================
Late in life, Mother needed to use a walker and a wheel chair. I decorated her "go-cart" with garlands of brightly colored stars. A shiny sequined gold heart hung in front. Her "glider" featured glittery stripes taped around the legs. Ornaments hung across the front. (If you needed to use one, which would you prefer – a cane or a strutter, crutches or walking sticks? Labels make a difference. Consider using Green ones.) In her bag, I stashed Groucho glasses, a bubble blower, tricks, toys, chocolates and other fun stuff for her to have at the ready. She loved it all – and put them to good use. She was a Green Light good-humor lady.
Without interfering with the care, what sparkle, surprise or smile-trail might you bring to amuse, re-energize and truly serve the patient you're visiting? Your Green actions can help heal the body and the spirit. How Green can you be – especially when you step into some Reddish situations? Play the game of Green Light the rest of your life. Everyone wins. Green Light medicine is good for everyone – patients and visitors – medical and health care teams too. The world needs your Greenness. GO Green up someone's day. Thank you.
===============================================================================
Marilyn Schoeman is a Seattle-based speaker, business/creativity consultant and author of a new book that  introduces the breakthrough language of Green Light®: GO! How to Think, Speak and ACT to Make Good Things Happen. 978-0-9841497-9-7 Far beyond a paradigm shift, her business, Trinadigm, helps people avoid Red Lights in life and live in a world with more Green Light shining their way. www.gogreenlightway.com.
Sandra Jackson-Dumont, Seattle Art Museum, says, "People need cool mixing places, settings that encourage conversation, unlikely social connection" and she hopes, learning, writes Tyrone Beason. She curates experiences, blending various forms of art, pop culture, music, etc.
What Green Light experience might you curate, to connect a diversity of thinkers, perhaps in a new community gathering place?
Award-winning artist Theaster Gates is "known for gutting blighted buildings, creating museum pieces with the salvaged materials and converting the reclaimed structures into community halls suitable for poetry readings, musical performances, prayers meetings or whatever the surrounding neighborhoods dream up," writes Tyrone Beason  (Pacific NW Magazine 6-5-11).
Gates' work is classic Green Light – creating Ideal Scenarios.