Everything Marilyn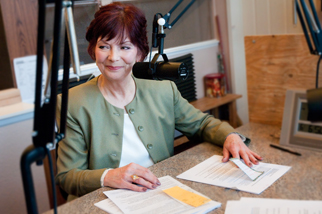 Marilyn Schoeman is described as a visionary think tank – and sometimes called "Greenius." Designated a "Champion of Creativity" by the American Creativity Association, her mission is to dramatically expand creativity – to super-charge professional success and personal fulfillment. Delighting audiences at a wide variety of conferences, business events, and educational summits, Marilyn has delivered presentations around the globe. Her clients include Helsinki University, IBM, Harborview Medical Center, Resources Development of Egypt, REI, DuPont, Industrial Research Institute, Boeing, ACED, SMPS, Young Presidents Organization, Yan Shan University/Qinhuangdao, China, TI-IN TV Network, and state agencies in Iowa and Washington. She has served as an adjunct instructor at several universities.
In addition to presenting keynotes and seminars, Marilyn designed BOFF-O! ® (Brain On Fast Forward). This simple, yet profound, card game/ deck yields astonishing on-the-spot creativity breakthroughs for many of her clients. The mind-expanding and versatile tool elicits intuitive responses and deeper insights for new opportunities – products, services and systems. As a business consultant and creative strategist, Marilyn facilitates and generates breakthroughs – for products, marketing, operations and profitability. She also partners with organizations to implement the Green Light® system, dramatically improving employee satisfaction, corporate culture, and net gains. Often called the Queen of Green, Marilyn helps people gain GO-mentum.
My life purpose, and likely yours as well, is the Green Light Goal: Create the greatest good, in the best way, for the most people, for the longest time.