Media
♦  To view Marilyn Schoeman's press kit, click here.
♦ Click the link to view an interview with Marilyn:  The Way of the Toddler
♦ Please check out our Global Green Light Day spotlight at:
http://publishersnewswire.com/2011/03/16/PNW2088_080146.php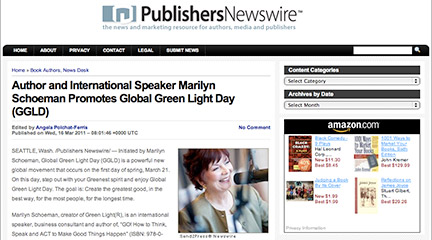 ♦ Marilyn tells us all about Green Light at Seattle's 3.3 Frequency World Tour! http://www.highfrequencytour.com/Media/Seattle/01/MarilynSchoeman.php
♦ Click the link below to view the feature in the West Seattle Herald: http://www.westseattleherald.com/2011/03/11/features/west-seattles-marilyn-schoeman-working-make-g
♦Radio interview on the Sisters of Sizzle Talk Radio show.
♦ Click the link below to view Trinadigm on O'Daniel Designs newsletter (Thank you Gina!): http://conta.cc/e3lDI3